| | |
| --- | --- |
| Lectures and Workshops | |
Ellen Lindner is a VERY enthusiastic quilt maker and teacher!
She finds the design process wonderfully exciting, and loves to share this excitement with her students. She likes trying new things, and encourages her students to do the same.
Workshops: (All skill levels, unless noted)
Hands on learning, fun, and experimentation are the emphasis during workshops. Online workshops available
New
Class: Grow with the Flow
6 hour class with sewing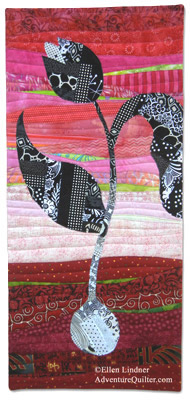 Easy techniques and beautiful colors lead to this cute little sprout project.
- We'll go with the flow and do some free rotary cutting for the background. SO easy and fast!
- Next, we'll do some "Fussy Fusing" for the plant. It's a technique for fusing lots of small pieces of fabric into one larger shape. Also easy and fast.
- Finally, you'll learn how to finish your quilt with a facing.
A one day class with lots of "growth!" (Yes, pun intended.)


Class: Design Your Own Nature Quilt
(One day without sewing or 2 days with sewing. Two days strongly recommended.)

Class sample:
Cosmo Cotillion
Note: Your quilt will look entirely different, since you'll design it from your own photo
This class will help take the fear out of design. Using your own nature photo, you'll learn how to interpret it in fabric. Multiple group and solo exercises will give you the skills and confidence you need to start your own design. A raw edge collage technique will ensure maximum flexibility and speedy results.
These are just a few of the things you'll be learning:
- Creating a sense of depth.
- Identifying and placing a focal point.
- How cropping can help a composition.
- Getting your fabric to do the work.
- How to work with raw edge collage.
Note: No artistic skills are needed, but artistic courage is required. Kit fee. Maximum 15 students.

Additional Resources:
- Supply List
- Wonderful Student's Results
- See some of Ellen's nature quilts, along with the photos that inspired them


Class: Instant Art Quilt
(3 hours or 6 hours)
Class sample:

After Image
Have you ever bought a fabric that's so gorgeous you were hesitant to cut it up? Now, you can use the beauty of that fabric to QUICKLY and easily make a fantastic art quilt! Following Ellen's instructions, you'll tear your fabric, then arrange those pieces onto a base fabric, following a predetermined plan. Your results are guaranteed to be awesome. Not only that, but this process is so fast you'll be quilting by the three hour mark. Students in the 6 hour class will go home with a completely finished quilt with a hanging sleeve already attached! You'll be amazed at your quick and beautiful results! Maximum 15 students

Additional Resources:
- Supply List
- Student's Results
- Ellen's Instant Art Quilts

Class: Adventures in Double Reverse Applique
(6 hours)
Check out the killer projects for this class! You'll finish the apple in class and start on the pear. This raw edged appliqué technique is extremely accurate. Ellen's tricks for staying organized will ensure that your class time is efficient, productive, and free of frustration. You'll also learn tips for making your own DRA patterns. Note: This class is for intermediate quilters. Participants must be familiar with free motion sewing. Kit fee. Maximum 20 students
Additional Resources:
- Supply List
- Double Reverse Applique gallery
Student's comment: [A new member and I] both felt, just by looking at the pictures of your examples, that this was way over our heads and very advanced so I said, "Well, lets sit together and we can console each other". So we did. Boy were we wrong. We both had no problems with the workshop and both turned out beautiful awesome apples. Thank you so much for this wonderful workshop. You made us all feel comfortable and at ease yet you were so knowledgable....The apple is already quilted and I am so proud of it !! Now all kinds of ideas are swimming around in my head. Joan Williams



Class: Adventures in Color (6 hours, no sewing)
K
it fee
Do you want to learn more about using color to enhance your quilts? Then this is the workshop for you. Using paper only, you'll work through a series of exercises that will make you an expert by the end of the day! Along the way you'll learn the answers to these questions and many more:
- Where can I get inspiration for quilt colors?
- How do you work a color wheel? Why is it useful?
- What goes with my favorite color? What would be a good accent color with it?
- Why don't all these blues match?
- What is a neutral, and how do I choose one?
Maximum 20 students

Sample workbook page

Lectures: (45-60 minutes, All skill levels)
Lectures are informative, inspiring, and maybe even a little challenging. Clear visual aids and explanations make concepts easy to understand. Beautiful quilts, and encouragement will send you home with new confidence and enthusiasm. Note: These are projected lectures, so the room will need to be darkened.
Lecture: Playing with Fabric
From perfect points, to messy raw edges, Ellen Lindner has done it all. Follow along on her creative journey, as you view beautiful quilts, hear inspiring stories, and learn valuable techniques. Ellen is very eager to encourage creativity in others, and will share many ideas to spark your own artistic adventures.
Lecture: Adventures in Color
Color is the first thing we notice about a quilt.

It either attracts us or repels us.

Learn how to avoid color surprises in your quilts, and how to get color to work for you.

Basic color theory is explained in simple terms, and demonstrated with fabulous quilts.

A variety of different color combinations are discussed, from subdued to dramatic.
C
lick here for a sneak peak!



Teaching Fees





Teaching Schedule
©2011 Ellen Lindner, www.adventurequilter.com
Contact Ellen.