Color is often the first thing we notice about quilts and other art. Either the colors attract us or they repel us. This class will teach you how to use this powerful element to enhance your quilts and and achieve amazing results! Using paper only, you'll work through a series of exercises that will make you an expert by the end of the class. Along the way you'll learn the answers to these questions and many more:

Where can I get inspiration for color combinations?
How do you work a color wheel? Why is it useful?
What goes with my favorite color?
Why don't all these blues go together?
What is a neutral, and how do I choose one?
Completed exercises become part of a class workbook. Although this book will serve as a useful resource to you, its real value comes from the knowledge you'll gain as you compile it.

Learn more, by clicking on any of these underlined references:
Sample workbook page
Color Short Lesson
Supply List
Wondering if this class is a good fit for you ? Read Class Requirements, below.
Find out about the e-Learning experience: technical issues, privacy, and much more at How It Works.


Want to know when the next color class is scheduled? Click the GO button, below to receive advance notification.
Go to Classroom (Enrollment required)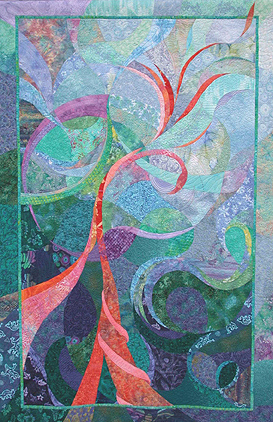 Hopes and Daydreams, ©2001
Class excerpt:
The quilt above demonstrates what Ellen calls the "Little Bit of Fire" concept.
It's considered desirable to use cool colors (blue, green, purple) as the primary colors, and warm ones (yellow, orange, red) as accents. Since warm colors are the colors of fire, Ellen helps her students remember this guideline by saying, "It only takes a little bit of fire to get dramatic results."