How to Pack and Ship Your Quilt
The Basics

Are you considering shipping a quilt to a show, but wondering how to do it? Here's a brief overview of how I handle this.
I generally pack my quilts in long boxes, 48 x 6 x 6. I order these from www.uline.com, and generally use them several times. Alternatively, Fed Ex has a long skinny box that works when shipping shorter pieces by air.
This is my how I typically prepare a quilt for shipping: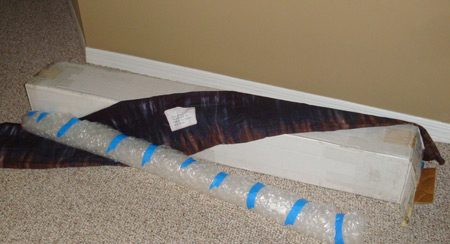 - Roll the quilt around a swimming noodle or a taped-together cylinder of bubble wrap.
- Roll it with the right side out, and starting from the bottom edge.
- Roll a piece of muslin, etc. around the quilt, so you can pin it in place without having to pin into the quilt.
- I have big long skinny quilt bags I've made, each with my contact information. I put the whole assembly into one of those. I've never bothered with trying to waterproof the whole thing, but it's a good idea, if you can engineer it. Options include buying commercial bags or rigging one with trash bags and packing tape.
- Pack the tube/quilt assembly into the box so it stays in the center, rather than banging into the sides. (Just wedge newspaper, etc. around the noodle at each end.)
I've used USPS, UPS, and Fed Ex for shipping. They all have their pros and cons. USPS is by far the cheapest, but it's also the least secure. And their insurance is sorta pricey. UPS and Fed Ex are very similar. I generally use UPS out of habit, but many quilters prefer Fed Ex. Declare the contents as linens! (Apparently the risk of theft is higher if the shipping label says quilt.)
Insurance is a toss up. You can buy it, but that doesn't mean you'll be compensated for the full amount purchased. The shipper will require you to prove the value, so unless you have an appraisal, you'll probably be out of luck.
For additional information, check out these helpful links:
Lostquilt.com
AQS suggestions
Boxes I use
If you found this information useful, you may be interested in my other free articles, online classes, and e-books. You'll find a full directory here.
---