Double Reverse Appliqué™ E-Book
(An Apple a Day)
"Ellen, your ebook Double Reverse Applique was fantastic. Thanks for a superb job of passing on your technique." Diane Hamburg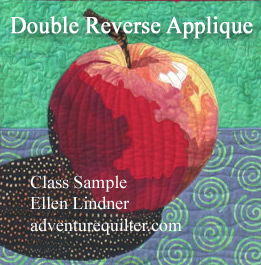 Check out the killer project included in this book! As you make it, you'll be mastering this easy raw edged appliqué technique. Ellen's tricks for staying organized will ensure that your time is efficient, productive, and free of frustration. You'll also learn tips for making your own DRA patterns. (43 pages, 51 pictures, plus an ink-saving section)
Note: This technique is most appropriate for intermediate quilters, since it involves free motion sewing. General guidelines for adding a border and quilting are included, but these things are NOT specifically addressed in this book.
Only $9.95 U.S.CD format, mailed directly to your U.S. address
Sample Pages
Double Reverse Appliqué Gallery
Supply List

Want more info? See Frequently Asked Questions
Would you like to receive Ellen's monthly newsletter in your inbox? If so, click on GO, below.